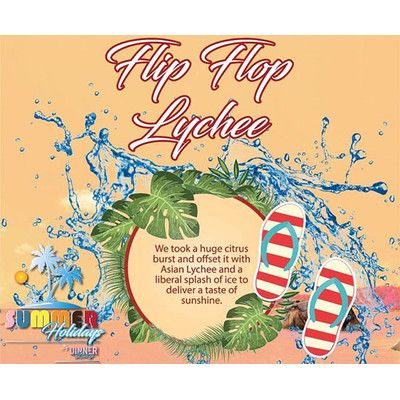 Inhalt:
50 ml (39,80 € * / 100 ml)
inkl. MwSt. zzgl. Versandkosten
Sofort Lieferbar! Lieferzeit 1-3 Tage*
Summer Holidays with Flip Flop Lychee saftige Lychees mit eiskalter Zitrone Dinner Lady Flip Flop Lychee aus der Summer...
mehr
Produkt Beschreibung
Summer Holidays with
Flip Flop Lychee
saftige Lychees mit eiskalter Zitrone
Dinner Lady Flip Flop Lychee aus der Summer Holidays Collection kommt aus dem verregneten England. Trotzdem sorgt das E-Liquid für tropische Strandgefühle. Du magst den süßlichen, erfrischenden Geschmack von Lychees? Flip Flop Lychee liefert genau das, kombiniert mit einem zarten Zitronenkuss und Eiswürfeln. Ein echter Sommerknüller für deine E-Zigarette. Überzeuge dich selbst von der Summer Holidays Collection "Made in UK".
Mit einem Mischverhältnis von 70 % VG und 30 % PG ist neben intensiven Aromen eine schöne Dampfentwicklung garantiert.
----------------------------------------------------------------------------------------------------------------------------------------------------
50ml hochdosiertes Liquid, nikotinfrei - abgefüllt in 60ml Flaschen mit 10ml Platz für SHOT oder Base
nicht unverdrünnt dampfen, da dieses Liquid für den SHOT extra höher dosiert ist!
Nach Zugabe eines 18mg SHOTS entsteht ein 60ml Premiumliquid mit ~3mg Nikotin
Wer das Liquid ohne Nikotin dampfen möchte, gibt einfach 10ml nikotinfreie Base hinzu
Bewertungen & Tests für "Dinner Lady - Flip Flop Lychee"
Ihre Meinung
Ihre Meinung zählt – wenn wir wissen, was Ihnen wichtig ist, können wir unser Angebot besser auf Ihre Wünsche abstimmen.